Shamanism, Total Freedom, Evolution and Ashtanga with Danny Paradise

daily 3-hour sessions, 3-6pm Yantra Hall.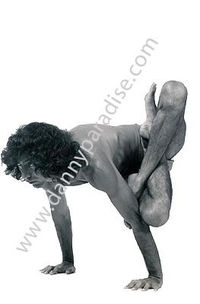 "Yoga arose out of man's perception of nature and is a journey back to nature. As an ancient Shamanic practice, Yoga is about creating personal empowerment, personal authority and total freedom with an understanding that Nature is our Spiritual Teacher and Guide..."
The sessions are suitable for all ages and levels of experience from beginning students to advanced practitioners, teacher trainees and teachers of all forms of yoga. Danny shares the wisdom of ancient traditions in a contemporary, compassionate, non-dogmatic and humorous way. His purpose is to help people to develop a sacred, safe, healing, expanding and joyful personal practice.

The sessions include Pranayama, Asana, and open discussions on topics such as:
Shamanic and Historical Roots of Yoga.
Healing Processes of Ashtanga Yoga, and other healing traditions.
Relationship of Yoga to Indigenous Spiritual traditions worldwide.
Spiritual Intelligence and Evolution.
Responsibility, Personal Authority, Fulfilling Personal Destiny and Yoga Food.
Diet and the dangers of the Chemical, Pharmaceutical and Genetically Modified Food Industries.
Yogic and Shamanic perspectives on Aging and Death.
Each Asana class will also include derivative poses, variations and modifications to show how to keep expanding the practices of Ashtanga Yoga as well as learning to develop a lifetime practice.